Anybody up for some Moore Fun?
Join Beth Moore for a special evening as she interviews her friend, Russell Moore, about faith, culture, and his new book, Losing Our Religion: An Altar Call for Evangelical America.
TIME
7:00 – 8:30 p.m.
Doors open at 6:30
BONUS: The first 100 guests through the doors will receive a wristband for a book signing following the event. Those attending the Houston event may also enter a raffle for special gifts and submit questions for a Q&A session.
QUESTIONS? Visit the event FAQ.
NOT IN THE HOUSTON AREA?
Join via YouTube livestream.
---
Order your book today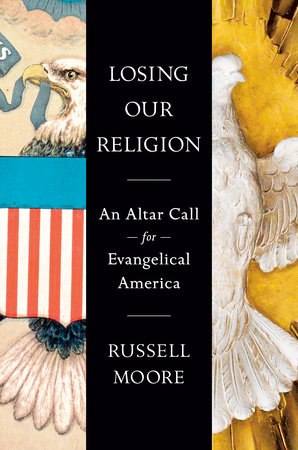 Preorder from:
ABOUT LOSING OUR RELIGION
Former Southern Baptist pastor and Christianity Today editor-in-chief Russell Moore calls for repentance and renewal in American evangelicalism
American evangelical Christianity has lost its way. While the witness of the church before a watching world is diminished beyond recognition, congregations are torn apart over Donald Trump, Christian nationalism, racial injustice, sexual predation, disgraced leaders, and covered-up scandals. Left behind are millions of believers who counted on the church to be a place of belonging and hope. As greater and greater numbers of younger Americans bleed out from the church, even the most rooted evangelicals are wondering, "Can American Christianity survive?"
In Losing Our Religion, Russell Moore calls his fellow evangelical Christians to conversion over culture wars, to truth over tribalism, to the gospel over politics, to integrity over influence, and to renewal over nostalgia. With both prophetic honesty and pastoral love, Moore offers a word of counsel for how a new generation of disillusioned and exhausted believers can find a path forward after the crisis and confusion of the last several years. Believing the gospel is too important to leave it to hucksters and grifters, he shows how a Christian can avoid both cynicism and complicity in order to imagine a different, hopeful vision for the church.
The altar call of the old evangelical revivals was both a call to repentance and the offer of a new start. In the same way, this book invites unmoored and discouraged Christians to step out into an uncertain future, first by letting go of the kind of cultural, politicized, status quo Christianity that led us to this moment of reckoning. Only when we see how lost we are, we can find our way again. Only when we bury what's dead can we experience life again. Only when we lose our religion can we be amazed by grace again.
---
Frequently Asked Questions
Do I have to register to attend?
No! Just come to Woodlands Methodist Church on August 9! Doors open at 6:30 p.m. and it starts at 7 p.m.

What is the ticket price?
Nothing! Zero dollars! This is a free event. All are welcome to attend.

What if I am not in the Houston area? Can I participate?
Yes! Watch the event via livestream.

Will this event be recorded?
Yes! This will be recorded and shared on a future episode of The Russell Moore Show podcast.

Will Losing Our Religion be available for sale?
Yes! You can buy a copy at the event, although we recommend you purchase one beforehand.

Can I get my book signed?
The first 100 people to arrive will receive a wristband to stay after the event for a book signing with Dr. Moore. We wish he could sign everyone's books, but we only have a window of time for 100.

Will there be additional merchandise for sale?
No, only Losing Our Religion, but we will have a raffle for other gifts.

How do I enter the raffle at the Houston event?
Visit the book table in the lobby to enter the raffle for special gifts from Beth.

How do I submit a question for the Q&A session?
Drop your questions in the basket at the book table when you arrive. Be sure to enter the raffle too!

Will there be refreshments?
No, please have dinner beforehand. Drinks with covered lids are permitted in the auditorium.

Could this be any MOORE fun?
Nope! And where two Moores are gathered, Jesus will show up and we hope you do too!

What if I have a question not listed in the FAQ?
Please send an email to [email protected] and we'll try to answer it.